HomeA brief historyThe present dayContact us
IT services in Bideford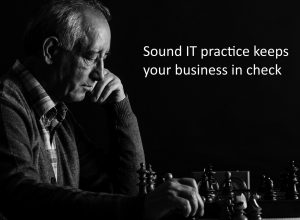 Girl-Friday-in-IT can be your virtual IT department. We are based in Bideford, North Devon, and provide hardware and software support for small to medium businesses in the form of:
Websites – website design, building, development and maintenance; Software upgrades – virus checking, installing new software, general housekeeping and machine clean up; Hardware upgrades – installing new machinery, components, cabling and peripherals (printers, keyboards etc).
A brief history of IT services in Bideford
Jocelyn is the linchpin that is key to Girl Friday's success and her experience and knowledge are how we are able to offer you the range of services we do. Jocelyn's IT career began over thirty years ago. She first learnt how to program a computer in Sixth Form College studying Computing Science 'A' level. Back then Computing/IT was mainly the preserve of huge organisations and the internet was more a concept than a reality for the masses. She was one of the first batch of pioneering IT bods.
Her early working life took her through a number of small IT contracts until she began working for a fledgling hotel booking agency as its dedicated IT person. The company initially consisted of only three members of staff and the internet was still in its infancy. The company grew rapidly and Jocelyn's role expanded with it. She became the company's Systems' Manager and was responsible for all IT related functions, namely: software maintenance; the telephony system; the maintenance of internal servers and desktops; networking; website development and the reservations' system. The real time, online booking system was spec'd, designed and written by Jocelyn in DataEase NetPlus, using an SQL database. She managed all IT related external supplier contracts and agreements. She sat on the Management Board and was actively involved in developing company strategy.
When she left to have a baby, she had four full-time staff and several contract programmers on her team.
Never one to be idle, Jocelyn and her husband set up a small bakery in 2005 which allowed them both the flexibility and time to spend at home with their young children. The bakery website kept Jocelyn up to date with developments in IT. In 2015 they closed the bakery in order to focus on core skills again and so Girl-Friday-in-IT was born.
The present day of IT services in Bideford
In the last two years Jocelyn has mainly contracted in website development for various clients.  She has also supported and maintained desktops, laptops, and notebooks.  This includes ensuring that all software is current and up to date, hard drives are clean and uncluttered, network settings are correct and secure and general IT related troubleshooting.
Contact us for IT services in Bideford
We can work for a couple of hours, or days or weeks on a specific project for your business, or we can be a floating addition to your team – integral to defining your IT strategy. Whatever the issue, if it's IT-related then we can help support your needs. Please feel free to email us at enquiries@Girl-Friday-in-IT.com or give us a call on 01237 420417